So, Chip, this is for you. I have the most outdated beige Formica countertops, looks like 1985 in the kitchen, how can I update them without breaking my bank? And that's from Shanelle. Shanelle, are you here? Hit it.
Please come on up here with me. There's Shanelle. In fact, (audience applause) Shanelle, I act like I like, but I didn't. Nobody gets this; you get this. I'm sharing mine Oh, thanks.
I'm sharing mine. Thanks. We are talking Formica. Who has Formica countertops? Lots, and you have Formica countertops.
These are nicer than mine These are nice butcher block countertops. But Formica's kind of like that entry level, that whole genre of 80s, 90s, that's still like that sweet spot, but everybody wants to do something with them.
I'm gonna show you guys a $20 fix, that can upgrade it to a monolithic slab feel, that you can do in a day. So this is very very simple. You want me to take that from you, or are you good?
Yes You're not gonna eat it? I'll take one bite. Okay good. (laughter) It's meant to be taken away, and then suddenly- I'm cheersing you from afar. I don't want marshmallow everywhere.
No, you're good, you look beautiful. So similar as I showed earlier, we like to give it a little tooth, a little bit of sand, then we're gonna prime it. Again, smoothness is key here, right. When we're done, that monolithic slab, which basically means it's all one color, all one sheen. We don't want ripples, and brush marks, or foam roller marks in it.
So we wanna make sure that we're being very deliberate. What I'm gonna show you, is how we do that. Actually, I'm gonna eat on your ice cream.
Okay. Alright.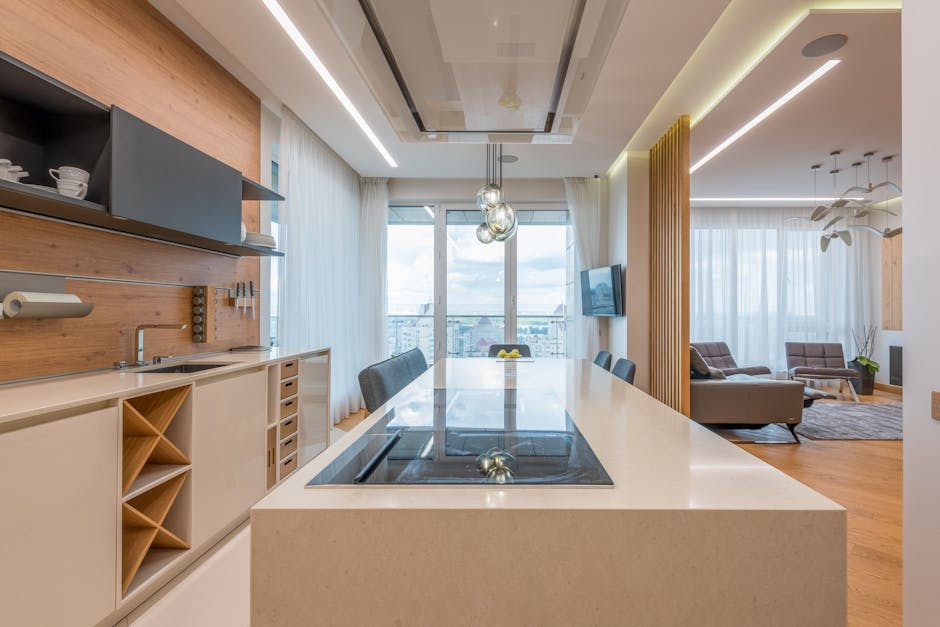 Okay, so what we wanna do. Get the foam roller nice and full, even more. Even more? Yeah, juice it up. Don't be scared.
Now what we wanna do is we want to keep that wet edge that I was telling you about. What does that mean? When we overlap, we don't want the roller to get dry. So go ahead and start over here, and just give it a good pressure. Good, even pressure.
And now, return it. Perfect. Now, what we wanna do is keep this same amount of paint on there. One of the challenges when you're doing a countertop is that light will hit the countertop and you'll see any irregularities. So, smooth, simple coats.
We're gonna let this dry either less than an hour. It's strangely soothing watching her do that. It really is. We're all like aaaahhh Now this whole thing right here is less than $20, and it's not hard, right? Go ahead and getcha a little bit more in there.
Now, what you're gonna wanna do is recoating. This is where people typically go wrong. They either look at it and they're like just keep it going, keep that wet edge. This is your wet edge right here. We're gonna get a little.
… there we go. What we're gonna do is either recoat it in under an hour, while it's still pretty wet, or we're gonna wait 24 hours before coating again.
That's what ends up messin' up the finish for you, okay. You don't want to coat it again after like three or four hours, it jacks- That'll mess it up. Jacks everything up, right. Okay, so what we're gonna do is we're gonna show what we end up with. (applause) Now what's exciting is we can actually tint and color match this to like 20 different colors.
(audience cheering and applause).